The special breakfast buffet, the pride of Toho.
Here at Toho, we also offer an extensive range of breakfast dishes.
As well as regional dishes of Aizu, the menu also includes classic Western breakfast dishes and desserts, offering something for diners of all ages.
Start your day in a healthy way with Toho's special breakfast buffet.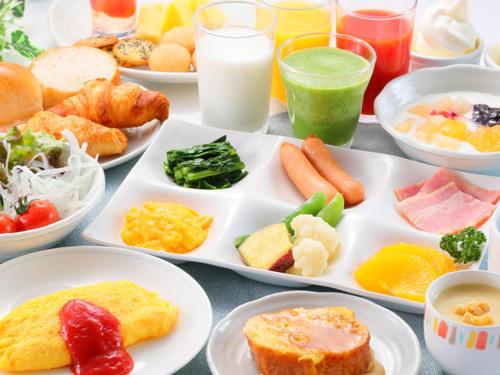 As with the dinner buffet, emphasis is placed on seasonality and local color, while also incorporating Western breakfast tastes that are great to enjoy in the morning.
Asa-ramen, the breakfast ramen of Kitakata that is now well-known all over Japan, is available in two flavor varieties—soy sauce and miso. Another classic, popular dish is your very own omelet, cooked before your eyes!
We also serve omusubi rice balls and yoghurt made with ingredients produced locally in Aizu and other parts of the Tohoku region. Be sure to experience Agaransho in the morning too!
7:00 a.m.–9 :00 a.m.
* Dishes served are subject to change in the different seasons.