Enjoy a bath, a meal, and relaxation time at Toho.
The lobby where we first welcome our guests was completely renovated in April 2015, transforming into a space that exudes relaxation and warmth.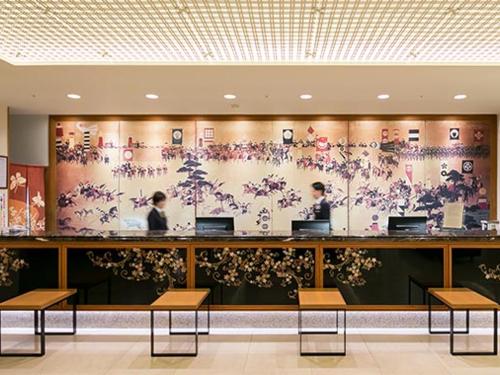 Reception
You will be greeted by a massive painting covering the wall behind the check-in counter, known as the Onogahara Oitorigari-emaki
The original painting was painted onto a folding screen by Osuka Seiko, a master of historical painting from Aizu in the final years of the Edo Period (1603-1868). It depicts with elaborate, realistic detail a scene of the elite soldiers of the Aizu Domain in formation with their banners raised, while in the center, several mounted warriors are trying to catch deer and wild boar.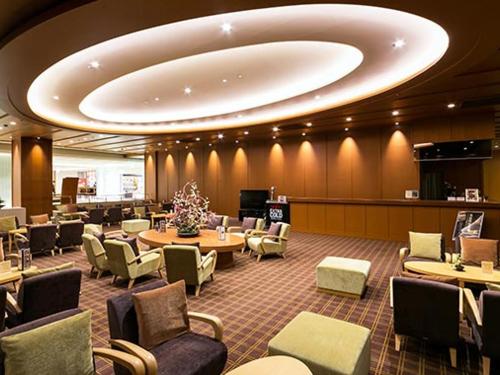 Lobby/Lounge
The lounge is a spacious area in which guests can sit back and relax. Hot coffee, orange juice, Oolong tea, and an ice dispenser are available.
Please make free use of this space.
Open: 7:00 a.m.–11:00 a.m. & 2:00 p.m.–6:00 p.m. (Lounge)
*All sections are non-smoking.
Wireless LAN
An internet connection via wireless LAN is available free of charge on the hotel's lobby floors.
You can connect to the internet with laptop computers, smartphones, and tablets.
The hotel does not provide support for computers, communication device environment, or settings.
This service may not be available at certain times due to maintenance or other reasons.
Please inquire at Reception about the extent of the area this service is available.
Use of the wireless LAN is at guests' own responsibility.
Onyado Toho offers no warranty nor does it accept any responsibility whatsoever for any damage (infection by virus, loss of data, or other damage)caused by the use of or inability to use the hotel's wireless LAN.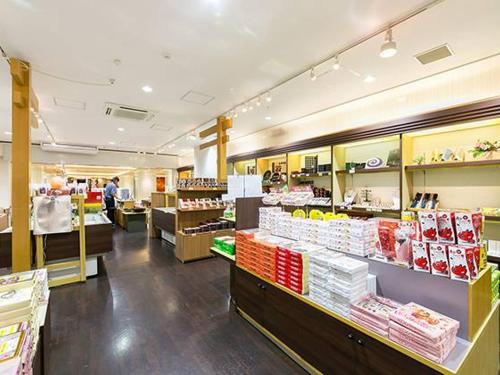 Shop
Onyado Toho's souvenir shop.
Offers a range of merchandise, including Aizu specialty products and regional specialties. Be sure to take some home for yourself, your family, and your friends.
The large range of merchandise includes Aizu specialty confectionery, Kitakata Ramen, Aizu lacquerware, local toys (Akabeko), pickles, miso paste, soaps, Aizu cotton, and other souvenirs, as well as juice, snacks, single-use cameras, batteries, everyday apparel and other travel essentials.
Opening hours: 7:00 a.m.–10:00 p.m.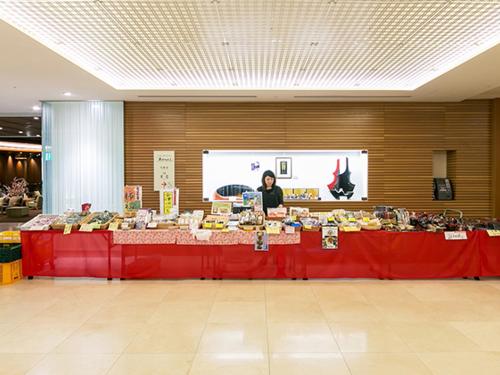 Asaichi (Morning Market)
A morning market is held every morning, offering seasonal flavors and local specialty products.
A tucked-away spot for guests in search of unique local specialties.
*Products available will differ depending on the season.
Opening hours: 6:00 a.m.–9:00 a.m.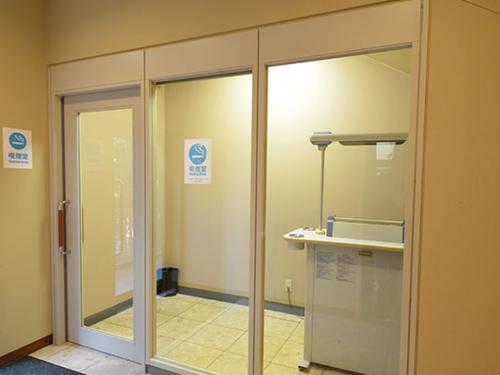 Smoking Room
There is a smoking space available on the Reception/Lobby floor. Available 24 hours.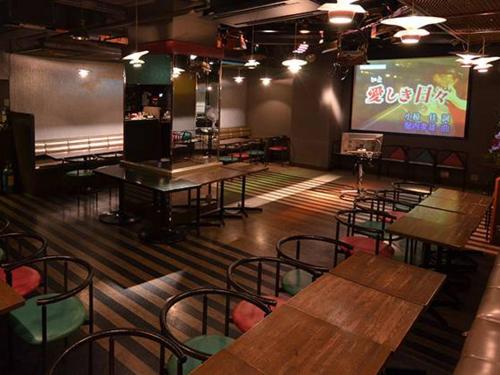 Snack Bar
Come to the snack bar, in small or large groups, to enjoy an afterparty with fun karaoke.
Equipped with a giant 100-inch screen.
Opening hours: 8:00 p.m.–12:00 midnight *Last orders 11:00 p.m.
50 seats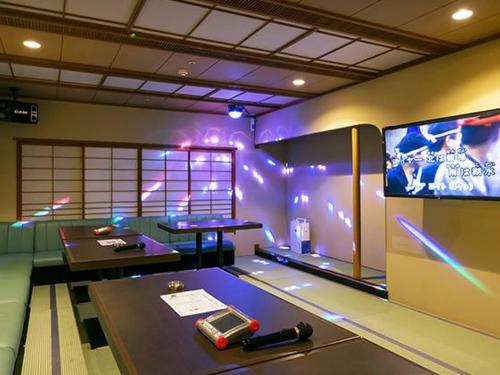 Karaoke Rooms
The Karaoke Rooms are available for private afterparties.
Come and enjoy a fun time.
* Bottomless drink plans available.
Opening hours: 8:00 p.m.–12:00 midnight *Last orders 11:00 p.m.
Number of rooms: 2 rooms
Maximum capacity: 25 guests
Details of Hotel Facilities
Guest rooms (160 total)
Scenic communal baths
Tanagumo-no-yu and Sora-no-yu scenic communal baths
(Scenic baths/outdoor baths/sauna available)
Restaurant
Agaransho Buffet Restaurant 
Other hotel facilities
KOHAKU Aroma Beauty Therapy Salon
HISUI Relaxation Massage Room
Snack Bar
SOAR Sky Banquet
LUIRE Wedding Chapel 
Yagumoden Wedding Shrine 
Photography Studio 
About non-smoking areas
Smoking is prohibited in all public spaces of this hotel, including the buffet restaurant. If you wish to smoke, please do so in the designated smoking spaces. Smoking is permitted in the guest rooms and private banquet rooms, except for those that are designated as non-smoking.
For the comfort of our guests, all guest rooms are equipped with air purifiers with humidifying function.